Growing Healthy Plants for Life
We continued our good health mission by giving constant teaching on a balanced diet. Our Transformational Committee Development (TCD) worker, Babujan, focussed especially on nutrition, which most villagers lack. We have realised that villagers wanted a balanced diet but lacked nutrition, which comes mainly from fruits, vegetables, and other sources. One reason villagers do not include fruit in their diet is the cost factor. Since fruit is very expensive, many villagers are not able to have it even once a month. They get their fruit when the home-grown fruit trees bear them, but many villagers have no fruit trees except jackfruit (a species of tree in the fig, mulberry, and breadfruit family) and jamun (commonly known as Java plum or Indian blackberry). When we saw this, we planned to provide a few different types of fruit trees so the villagers would not need to buy fruit from the market. Instead, they could grow them at home.
When we received funds from GHNI, we distributed four types of fruit trees to the families of Dhoker Jhara.
Written by: Babujan
GHNI TCD Worker
Latest Stories from south asia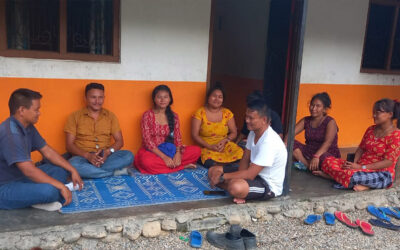 When a community has clean water and healthy food to eat, they can begin to look further into the future for even more success and personal growth.
read more