Microbusinesses Save Lives
This month, we have done activities related to Food, Education, Water, Wellness, and Income Generation. I have taught the villagers about community health and the health problems associated with using dirty water for drinking, cooking, and washing. Most people face health problems in the rainy season, so we bring awareness through teaching Transformational Community Development (TCD) lessons. I focussed on the importance of water and how to purify it in simple ways.
People also learnt they need to have vitamins for their body's development and to be healthy. I taught them about the vitamins and protein that we get from eggs and fish. I encouraged them to give vitamins and protein to their children.
I gave lessons about the importance of personal, family, and community sanitation. Most villagers do not know why they need sanitation in their daily lives. Hand washing with soap and water, taking a bath, and using the toilet can develop habits of sanitation. The community had a good response to this teaching.
Education has brought great changes to our society. In this village, because of their family problems, many children used to play instead of going to school. Through the TCD movement and teaching awareness in the community, we became able to send children to school. I have visited house-to-house those whose children didn't attend school and encouraged them to send their children. They were convinced and ready to send their children to school, so this month 15 children were admitted to the school.
This month, for Income Generation, I have taught families about multiple income generation sources, especially how to grow microbusinesses, starting with a small business and building it larger. I encouraged the villagers to continue growing their incomes larger and larger, day after day. By doing this TCD Income Generation work, they may become financially self-sustaining.
Madhu's* Story
My name is Madhu*. My life was very difficult when I had no income source. I was left to be a widow, and my sons started to live separately. I don't know why, but I am hated by my sons and daughter-in-laws. They didn't give me food for three days. My daughter and I were suffering from a lack of basic needs, and I had no income source or money. TCD became my helper in old age. Miss Mary was teaching and helping villagers to do Income Generation work. I am now involved in TCD, and I was helped by TCD Seed Money. I started a micro-food and tea shop. My business became successful, day by day, and I began to get a good income. My work is going better than before, and I can meet my needs and my daughter's needs. I am very happy. And I want to give thanks to GHNI for their support. This is my short success story.
Thank you!
Written by: Kiran
GHNI National Field Leader
*For the purpose of safety and wellbeing, "Madhu" is a pseudonym for the individual being helped by this project. 
Latest Stories from south asia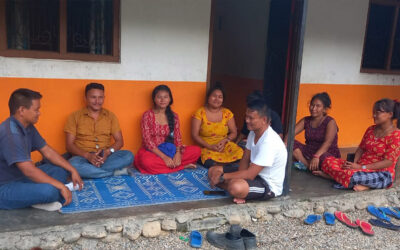 When a community has clean water and healthy food to eat, they can begin to look further into the future for even more success and personal growth.
read more