Awareness of Disease Can Save Many Lives
The arrival of the rainy season brings relief from scorching heat in the Binodpur region, but it also brings bundles of diseases like Dengue and Malaria, along with diarrhoea. We decided to take a precautionary step and bring awareness. This month, I had a door-to-door awareness drive, and I visited most of the houses in my village. I had thought of bringing them to one place for awareness training but then saw that visiting individual families would give more opportunity for interaction.
Our Transformational Community Development (TCD) team made house visits to spread Health and Wellness education awareness and inspected their surroundings for cleanliness. I checked if there were waterlogged areas, which could be a breeding ground for mosquitoes. I also suggested they clean their surroundings using bleaching powder or DDT spray. Dengue and Malaria take many lives and can be caused by dirty surroundings. Villagers usually tend to ignore preliminary symptoms, so timely action could save their lives.
Another important work I did was promotion of my tutoring centre, which I am making in the village for the children. We also had a meeting with villagers and discussed raising funds, along with dates for repairing the village's tube well.
Written by: Sanjay
GHNI National Field Leader
Latest Stories from southeast asia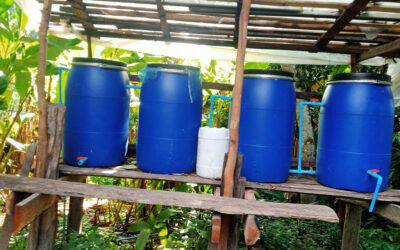 On their own, the villagers built a roof over their water filters and even the children are learning about development.
read more