Collaborating with Refugees
This month was very hot. The last time it was this hot was in 1971, but our team is working hard in villages Sunkist 1* and Sunkist 2*. We did three Transformational Community Development (TCD) trainings with two women and one man. We also had a summer camp for Afghan refugees and villagers from Sunkist 1 and 2. This was a very fruitful time. We sang songs, made plov (pilaf – the national dish), and had discussions on how we could transform villagers' and refugees' lives. We talked about the five areas of TCD. We also talked about how refugees and villagers could be independent during these hard times. It was a very heated discussion between Lola, our TCD worker, and the refugees. The Afghan women said they need to make some businesses, but the Afghan men say we, GHNI, need to make a big donation to start businesses.
Since 2016, I've been working with GHNI, and this is one of the biggest problems in Central Asia. All villages want big donations. But this is not how we work. I tried to explain that it is best to make small donations/projects, like a seed project, that will produce big results. Lola understands this very well, and, the last time I was in the meetings, I tried to explain to the refugees how it works. Now, we have a good relationship with the community, and the community likes us. They like us as an organisation and like us as persons. They respect us. It is our hope to graduate Sunkist 1 and 2, soon.

Thank you!
*In the interest of security, "Sunkist 1" and "Sunkist 2" are pseudonyms for villages being helped by this project.
Written by: Oleg
GHNI Partner Volunteer
Latest Stories from
CENTRAL Asia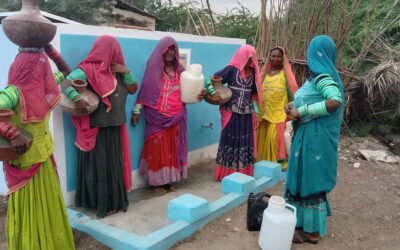 The women are so happy that they don't have to walk far for water and can even sit on the square blocks while waiting for their jugs to fill from the taps.
read more