A Strong Supporter of Development
The agricultural rehabilitation programme is vital to the village for food security. The programme was started in the beginning of this year and it is impressive to see the progress the villagers have made so far. Of course, the programme has its inevitable challenges in terms of drought in the area, prolonged fighting and economic crisis in the country. Regardless of the difficulties, the beneficiaries focus on their work and are engaged in strengthening the village livelihood through this programme. Aung* is a strong supporter of the Transformational Community Development (TCD) programme in his village. He played an important role in the implementation of TCD works. "I have witnessed the village improvements by the implementation of TCD and I am impressed. The village is united much more than before and everyone is happy seeing the developments," he said. He is one of the beneficiaries of the agricultural rehabilitation programme. His family works a banana tree plantation. "Everyone was worried sick a few days ago as we did not have rain for our plants. The plants wouldn't have survived the drought if it had not rained in time. My banana trees are growing well. And I hope this plantation will support our family livelihood," he added.
The villagers were happy as it rained again after a few weeks of no rain in the area. And they are working hard to have a good harvest. Our team is working to teach them strategies to retain soil moisture for future periods of low rainfall.
Thank you,
Written by: Solomon
GHNI TCD Worker
*For the purposes of safety, "MH Village," and "Aung" are pseudonyms for the village and individual being helped by this project.
Latest Stories from southeast asia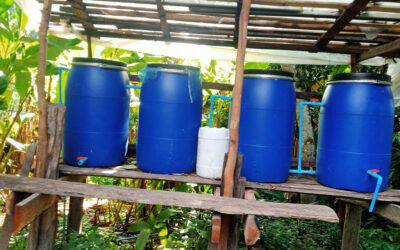 On their own, the villagers built a roof over their water filters and even the children are learning about development.
read more