350 Families Saved by Food & Winter Kits
During the past weeks, the Transformational Community Development (TCD)  team has been able to reach different areas to survey and help. We distributed 350 food packs, 350 winter kits, and developed a tent village among 5 families. Helping these families was bringing joy and a smile on their faces. As winter has started, we started providing winter kits for affected families.

Nazir is living in Sanghar, and his area was one of the most affected by the flood. They are still under the water, and they have no chance to sow wheat and other crops. We helped his village and the surrounding area with food packs and winter kits. Nazir said, "We are living out of the way, and nobody was ready to come to our village because there is still water. We have lost our houses and household goods in this flood and we are in great need of food and blankets. Thank you so much for coming to our doorstep through a difficult road. We will never forget your love and help."


Ramesh and his whole village were badly affected in this flood. The whole village was washed away. We have already provided tents and food packs in the last months for this village. Ramesh said, "Nothing was left for us to use, living in tents with blankets was very hard. During these days of winter, my family was praying for the provision of blankets. Through your team, my prayers were answered and now I and my whole village can sleep warm."

Our next goal is to provide food packs for 600 families and winter kits for 300 families.

Thank you!
Written by: Salim
GHNI TCD Worker
Latest Stories from
CENTRAL ASIA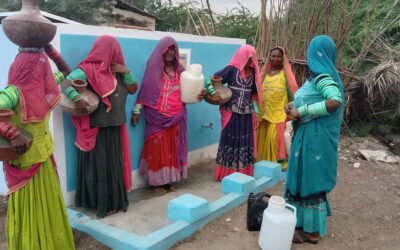 The women are so happy that they don't have to walk far for water and can even sit on the square blocks while waiting for their jugs to fill from the taps.
read more