Teaching, Training, Providing, and Loving
Nubian women help their husbands feed their families by selling small products such as perfume, soap, palm fronds, and some Nubian foods. Short Term Trip (STT) volunteers purchased some products, which made the women very happy.
As part of Transformational Community Development (TCD), an orthopedic medical convoy visited the groups of women of Saft Al-Laban and Ezbet al-Majidi. We saw much suffering and pain among the people, but we also saw the joy of patients, as well, when they felt there were people who cared about their health.
Mario is one of the shy children in the group of children in Saft Al-Laban. He did not participate and was quiet, but after one of the leaders encouraged him a lot, Mario learned to participate and discuss. Recently, Mario stood up in the meeting and shared what he learned from that lesson. This was evidence of his change.
A convoy was organized to raise awareness and teach about diabetes to a group of women in Shusha. Due to continuously raising awareness of this disease, no cases of diabetes were found, but the women were encouraged to help others seek help, if needed.

Diabetes screenings were carried out for more than 43 women in Dawadia and Al-Shurafa. Several cases of diabetes were discovered, and the women were directed to follow up with a specialist doctor who would provide the necessary treatment.

Many of the poor suffer in Minya Village, in Upper Egypt. STT volunteers provided 200 boxes of food that have been distributed to nine villages so far. Families expressed joy at having food at home, and people were happy because they saw an example of practical love.

Nada is a teenager from Bani Mazar. She often felt rejected and not accepted. In a lesson that was presented on self-acceptance, there was a time towards the end when each of the young people chose two of their friends and expressed two positive qualities about them. Nada saw how much acceptance and encouragement her friends expressed towards her, and she cried when she saw how much they loved her.

It was wonderful to hold a sports day and festival for 150 children from 7 villages with the participation of a short-term team from GNHI. A clown shared their joy with the children, and a sports team presented competitions between groups. Toothbrushes, toothpaste, cake, and juice were distributed to all children. The children were so happy.

Thank you!
Written by: Kerstin, Bassem, Fady, Eman
GHNI TCD Workers
Latest Stories from AFRICA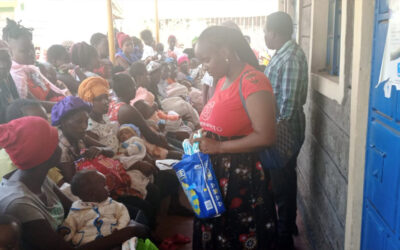 The Kiwanjani community is working together to encourage and educate each other so no one goes hungry.
read more