Flood Victims are Hopeful
Many areas are still covered with water and people are still displaced and waiting to go back to their homes. It is winter and it is very hard to live in tents. The Transformational Community Development  (TCD) Team is continuously providing relief to flood affected. During the past weeks, the team has been able to reach different areas to provide help to needy families. We have distributed 150 food packs and 150 winter kits.
Through the support during the flood, we found five new villages in different areas and these villages will become model villages in future. They really want to learn and grow more. We have organized the village committees in all new villages and, in the future, we will help them remake their houses.
Raza* and his family are living in a tent village along with their relatives. Their village was completely destroyed in the flood and there is still water there; they are not yet able to go back to their village. The team provided winter kits and food bags in this tent village. Raza Said, "It is almost six months that we are living in tents and waiting to go back to the village, but water is still there, the months of December and January were very hard. We lost our blankets and we were spending our nights by burning firewood to warm ourselves. Thank you so much for providing us blankets and warm clothes, now we can sleep warmly."
Chetan* and his family were affected by the flood and now they are settling themselves. During the Food Distribution, Chetan said, "There are still many struggles in life. The flood totally changed our lives. We are not able to work anymore because there is still water in our fields and we are very worried about how we will manage our life, even now we have had nothing to eat since yesterday. It is your love that has helped us. We are thankful for your love and support of the food bag to my family."
During the village visit one of the old ladies said, " Since you are helping us, we are really blessed through your visits and meetings, we learn the meaning of life. All the years of our life, we never learned how to develop the habits of sustainability. We now clean our houses. We have learned to believe in God for our needs. This is the very first time in my life I can hope my kids will be educated and play a role in developing others."
The team also started the follow-up in different villages for the Self-Help groups and started the meetings with village committees. 
Thank you!
Written by: Salim
GHNI TCD Worker
*For the purpose of safety and wellbeing, "Raza", and "Chetan" are pseudonyms for the individuals helped by this project.
Latest Stories from
CENTRAL ASIA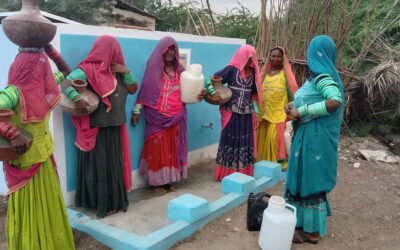 The women are so happy that they don't have to walk far for water and can even sit on the square blocks while waiting for their jugs to fill from the taps.
read more