Making the Most out of the Dry Season
It is the dry season in Ngassa. The majority of the locals are not actively engaged in farm work at this time. The women have a lot of time on their hands this season. A handful of women decided to focus on the sewing classes they began last year as a part of Transformational Community Development (TCD). During the rainy season, they had to be away at their respective farmlands, so now, during the dry season, seven women decided to be more consistent.
They are with Saratu, the trainer, for five to six hours, four days a week to learn how to sew. Slow and steady the women are learning how to tread on the sewing machine and cut and sew simple styles. Hauwa, one of the women, said she is excited that they have this opportunity at their doorsteps. It is the first time that the Ngassa women have a sewing machine and a trainer. She is determined to make good use of the opportunity and looks forward to having a source of income from a sewing business in the near future.
Written by: Shade
GHNI Project Manager
Latest Stories from AFRICA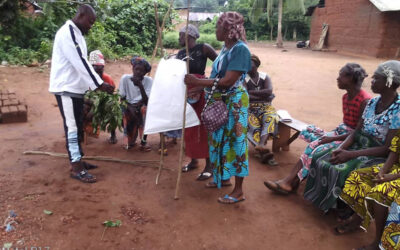 Locals learned how to prevent the breeding of disease-causing organisms through proper hygiene practices, handwashing, and handmade waste bins.
read more