A Deeply Dedicated Partnership
House of Ruth continues to be the place where many residents find hope and stability through Transformational Community Development (TCD). This month, our clinic assisted in the treatment of 68 patients suffering from various ailments such as diabetes, high blood pressure, and bronchitis. Maissa* is 56 years old and has asthma and high blood pressure. Her doctor urged her to drink plenty of fluids and consume nutritious foods.
During the month of May, the sewing class instructed participants in how to use discarded pieces of cloth to make a dress, tailor trousers, produce a cloth thermal bag for food, and acquire new skills in cutting and measuring.
We are continuing the English and computer classes for 21 new students of all ages. During the rest of the May English courses, students learned the months of the year, the days of the week, the parts of the body, and their colors by inquiring about the colors they see in their lives. In computer class, they learned how to change the desktop backdrop, copy and paste text, delete a folder, and use the Paint application.
The students arrive at House of Ruth hours before the classes begin. Because this time is considered free time, we began to use it for team-building games and skill enhancement. This brings the students joy and motivation.
In cooperation with a local partner, we implemented two days of trauma healing with a group of 10 people.

Thank you!
Written by: Sameer
GHNI Jordan Admin Assistant
*For purposes of security and wellbeing, "Maissa" is a pseudonym for the individual being helped by this project.
Latest Stories from THE MIDDLE EAST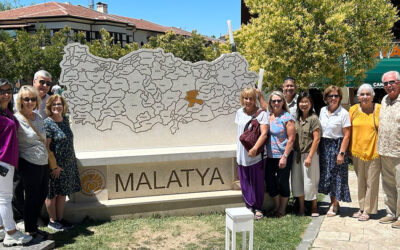 Continued care for those traumatized by the earthquakes leads to growing mental and emotional relief for the displaced.
read more