Villagers Use Locally Resourced Wood to Rebuild
Myat Hlae villagers worked hard to rebuild the Early Childhood Care Development Center that was destroyed by the recent cyclone. The Transformational Community Development (TCD) committee raised funds locally and contributed labor to gather materials. Their dedication for the educational opportunity for the younger generation is impressive.
Actually, the community is suffering the impacts of the Cyclone Mocha and struggling for livelihood. The committee has successfully raised more than two million kyats locally for the construction of the facility. With the funds available, the committee bought tin roofing and continued to work getting materials such as wood for posts and bamboo for walls, etc.
A monk in the community observed the hard work of the committee and their commitment to rebuild the facility. He then donated an old mango tree in the monastery campus. The committee gladly accepted the donation and cut the tree and made boards for the construction.
Our champion said, "Wood is expensive for building and we could not afford it. The funds we raised were not enough to cover all the costs for the building. But we were so glad to have this big tree to cut and make boards. We worked hard together with motivation and now we have good wood for the building. With the community labor, we are rebuilding the ECCD facility. As parents, we are so excited that once again our children will have access to their learning center soon."
This community has learnt how to adapt to the challenging situations and build local capacity to overcome the obstacles on their way toward development.

Thank you,
Written by: Solomon
GHNI National Field Leader
Latest Stories from southeast asia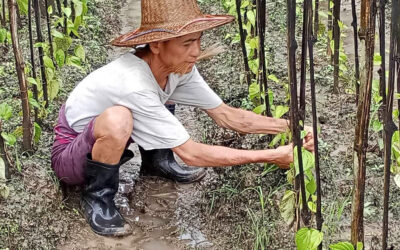 Sometimes all that is needed to get skilled workers to be able to support themselves is a small start-up loan.
read more