A symposium was held for a group of women in Ezbet Al-Majidi, entitled Our Country is a Trust, in partnership with the National Council for Women. 400 women attended the village stadium, and a large group of leaders attended as well as participated in home visits.
A conference was held for some children from six different villages, and 65 children participated! This conference was entertaining, educational, and included training. Video lessons were presented on tolerance, forgiveness, and how to deal with others.
While listening to a lesson on first aid and how to deal with superficial wounds, Rami expressed that it was the first time he heard and learned about this matter and that he was doing many things wrong. He promised that he would apply what he learned from this lesson.
Umm Kyrillos says that she was very grumpy about everything—her home, her children, and her husband. She always saw herself as less than others, but after the lesson on rebellion, she learned to be thankful and see herself with loving eyes, and she learned to share that with others as well.
A medical convoy was arranged with the medical center in the village of Saft al-Laban. Dr. Richard, an American orthopedic doctor, volunteered to examine 200 cases. This convoy included a large number of people and served the village of Saft al-Laban and all the neighboring villages.
Um Amir started attending the women's group and joined the literacy class. She shared and said, "I learned to write my name in letters for the first time in my life. How happy I am to learn and that my level has improved in reading and writing. Now I encourage other women to enter education classes."
The trainers of the Transformational Community Development (TCD) class in Al-Mizan Bani Mazar neighborhood conducted a training workshop for the girls, teaching them embroidery by writing the words and embroidering them and drawings on the cloth. Many girls learned and mastered embroidery, and this helps them start art projects to help generate income.
Thank you,

Written by: Kerstina-Bassem-Fady-Eman
GHNI TCD Workers
Latest Stories from AFRICA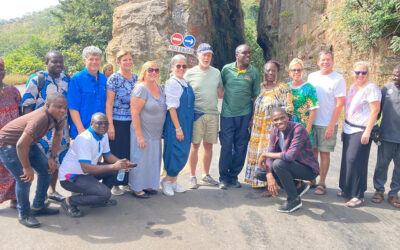 Our field board chair, Norm Hawkins, and his wife, Barb, served on a medical outreach to four villages in central Togo, Africa in November 2023. Global Hope served with a longstanding partner we regularly work with. Ten workers from the US joined over 40 people from...
read more