Locals Request a Re-Introduction to TCD
Effaoho villagers continue to strive towards completed classrooms in the school, ensuring that they are in great learning condition. Some zinc sheets for roofing have been bought alongside more sand. The items bought will be used when the builder, who was involved in a minor accident and sustained some injuries, recovers fully.
Meanwhile, in Doko Village, hearts are shifting towards Transformational Community Development (TCD). TCD was introduced to Doko Village a couple years ago by finding solutions to challenges of Wellness, Education, and Income Generation. Most of the women in the village are idle many months of the year and without any source of income. A tailoring center was set up to teach sewing and knitting and quite a number of women attended the classes.
After a few months, the villagers began to develop cold feet towards TCD. It was discovered that they misunderstood TCD and had the wrong expectations (like being given money and not working for their development). Recently, our TCD worker Teti noticed an attitude change among the leaders of the community. They have requested for Teti re-introduce TCD to them. They shared a dire need for housing for teachers in the village school. We hope this positive attitude towards TCD will be sustained and the change will translate into a positive development journey for Doko Village.

Thank you!
Written by: Bukola & Shade
GHNI TCD Worker and Manager
Latest Stories from AFRICA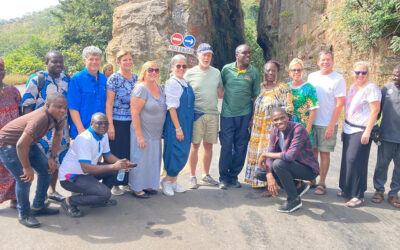 Our field board chair, Norm Hawkins, and his wife, Barb, served on a medical outreach to four villages in central Togo, Africa in November 2023. Global Hope served with a longstanding partner we regularly work with. Ten workers from the US joined over 40 people from...
read more