Through training from the Transformational Community Development (TCD) program, TCD workers have become a game changer in matters regarding health in Gem Village. They have contributed to the improvement of health and taught the villagers good management for chronic health diseases. GHNI and partner organizations have trained TCD workers to have basic, helpful skills.
Newborn mortality rates have gone down in the community. Pregnant women are being trained on how to handle themselves from the onset of their pregnancy until delivery, and they are taught what foods will help increase breast milk once they deliver. They are also given information on breastfeeding and the care of newborns. They are being taught hygiene in order to avoid diseases such as cholera and typhoid, and this has immensely reduced the number of diseases caused by a lack of good hygiene methods.
TCD workers also help by providing first aid services. Mama Nakol is one of the TCD members who has played a role in changing the Gem community. This month, Mama Nakol and some more TCD workers conducted a health monitoring program which was successful. The Gem community is really grateful to the GHNI family for their contribution in making health a priority in their community and training their workers to acquire more skills that help the community.
Written By: Christopher
GHNI TCD Worker
Latest Stories from Africa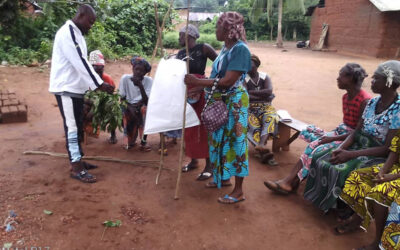 Locals learned how to prevent the breeding of disease-causing organisms through proper hygiene practices, handwashing, and handmade waste bins.
read more