Turning Kennel Seed Waste into Detergent
Bankim oil mills constitute huge piles of waste. Kennel seeds are abandoned by the villagers after extracting the juicy palm oil for money and household consumption. Mill owners have difficulties clearing this waste from their vicinity. Transformational Community Development (TCD) lessons focused on availing the local utility of this "waste." Kernel seed oil, when extracted locally, is a primary source of detergent and soap, a vital hygiene and sanitation product and major household need. I was so happy to see the collaboration efforts of the Wellness and Income Generating Committees come to fruition. This special training session brought together 15 families to enhance their knowledge in the production of detergent for local consumption and future marketing to surrounding communities.

Lovet, the facilitator, demonstrated with simplicity this production technique. The following constitute local materials to produce 5 kg of detergent at home: 2L local kennel oil, 2L of water (as available from home), ½kg of caustic soda, 100mL of fuming agent, color and perfume (that constitute a minor percentage of the industrial material cost).

The training took place at Tchim Village within the growing Bankim cluster. One villager, Langou, said, "I am so amazed at the cost and simplicity of the procedure, henceforth, I will not abandon the kernel seeds at the mill. I shall stop the purchase of detergent sachets from the market. They are very expensive, comparatively." Children were keen followers of the detergent lesson. 
While hoping to see a positive development in this sector at Tchim Village, our future project includes working with Mape, one of Bankim cluster communities for a water project. The community is currently mobilized to see their dream come true in the early part of 2023.
Thank you!
Written by: Eugene
GHNI TCD Worker
Latest Stories from AFRICA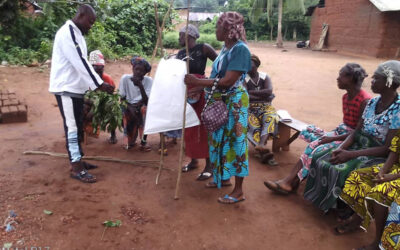 Locals learned how to prevent the breeding of disease-causing organisms through proper hygiene practices, handwashing, and handmade waste bins.
read more