Fighting Malnutrition Among Youth
Transformational Community Development (TCD) focused on the sensitization against malnutrition, which is affecting young children in Tchim and Mvouh cluster villages of Bankim. The Health Committee is led by John, a leader in the community, who states, "Most of these children are suffering because of the ignorance of the parents, meanwhile, the community, locally, has all what it takes to help the children."
A strategic plan has been developed for the next month with some women assigned to prepare a lesson on balanced diet, local technology, and low cost with the use of local resources. We have a variety of farmers in the community producing soya beans and vegetables from our past lessons, while there is palm oil and other food items of value in the community.
At Mape village, the electricity supply company recently installed energy required to power a water pump; plumbers are in the field to complete the network connection for the village to have water in a couple of days.
Written by: Eugene
GHNI Field Staff
Latest Stories from AFRICA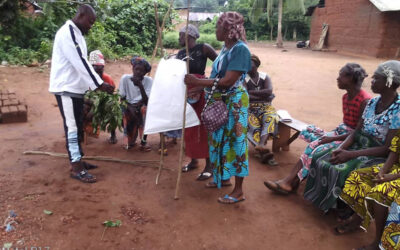 Locals learned how to prevent the breeding of disease-causing organisms through proper hygiene practices, handwashing, and handmade waste bins.
read more