Helping in a Multitude of Ways

Rahma is a child from the Bani Mazar group. Unfortunately, she comes from a very poor family with a father who is a drug addict who neglects his family and a mother who has nothing to do with them. We discovered a severe sickness in Rahma's legs, and the right leg's skin was so hard that her pants stuck to her leg. We quickly moved to help her, and she is now getting better.
Two medical convoys were able to help villagers with eye problems. They provided eye examinations and also performed operations for cataracts. People came from different places, and the eye doctor was able to examine all the existing cases.
A group of women in New Minya were taught how to make liquid soap at home, which helps them save money and develop their skills.
Rahma from the Women's Group in Al-Shurafa owns a very small project and took a loan to develop the small supermarket project. This provided her with goods, which increased customers and increased their income to help them live.

Transformational Community Development (TCD) ToT1 training was conducted for three new villages, Al-Taybeh, Tawa, and Ezbet Raphael. The training included 38 individuals. The result of the training was the formation of local committees for each village, their activation, and follow-up after the training. Training was conducted for the village leaders, and the villages started immediately after the end of the training.
A symposium was held on a gathering day for the village of Al-Kom Al-Ahmar. The lesson was for the children of the group and their mothers to learn how to deal kindly with each other.
A cleaning day was held for the meeting headquarters of the Bani Mazar group. It was a day full of enthusiasm and energy, and all of the children and leaders participated in helping each other. Ali is one of the beautiful children. Despite the recent loss of his father and how difficult this matter was for him, he always impressed us with how giving and helpful he is. Ali was leading his friends in cleaning the group's headquarters.
TCD TOT1 was held for 20 participants in Adendan Village. They will choose a new committee, and they plan to start TCD with the children.

Thank you,
Written by: Fady
GHNI TCD Worker
Latest Stories from AFRICA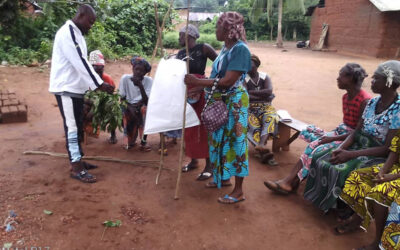 Locals learned how to prevent the breeding of disease-causing organisms through proper hygiene practices, handwashing, and handmade waste bins.
read more